At WPhost, we make it easy for you to host WordPress at your own domain name. We've got everything to get you online and our provisioning process is very much hands-off – we'll take care of all the moving parts including a free WordPress migration, core WordPress updates, security, backups and caching.
All you have to do is sign up for any of our value-packed WordPress hosting plans. This blog will take you through step by step how to host WordPress at your domain name. You're just moments away from moving to the very best managed WordPress hosting, faster speeds and greater uptime. Let's get started!
Step 1: Choose a Domain
After selecting your preferred WPhost plan, you'll need to choose your domain hosting option:
Register a new domain
Select this option if you don't yet own a domain name. All plans include a free Domain Name registration.
Transfer your domain from another registrar
Select this option if you already own your domain name and wish to transfer this to our Registrar (ownership of your domain does not change). This option allows us to manage your DNS records and update these to point to our servers. Transferring your domain name will allow you to take advantage of some of NZ's best prices and our great services. It's free to transfer your New Zealand or TLD Domain Name when you order any WPhost plan.
I will use my existing domain and update my nameservers
Select this option if you do not wish to transfer your domain name to our Registrar (you'll be responsible for updating your own DNS records to point to our servers).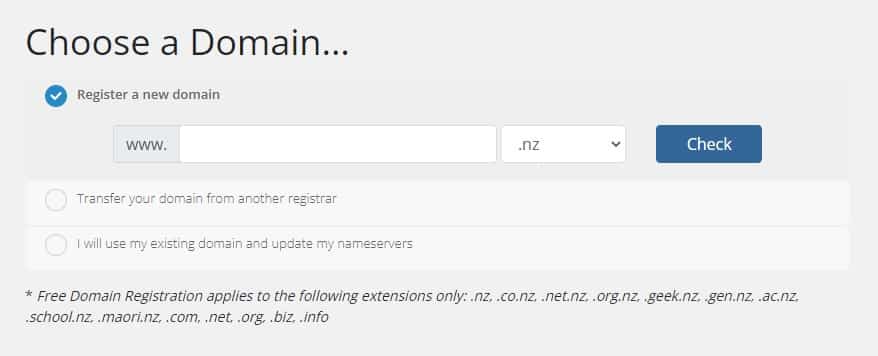 Step 2: Choose billing cycle
We are one of the few WordPress hosting providers who offer flexible billing options and payment cycles. Choose between monthly, quarterly, semi-annually or annually payment plans – your choice!
Direct credits are only accepted for annual plans. If you choose a monthly, quarterly or semi-annual plan you must make payment by credit card.
Step 3: Configure your desired options
Now comes the exciting part! Depending on your chosen plan, you'll be able to configure the following options:
Email Hosting
Many of our clients use Google Workspace, but WPhost also offers reliable business email hosting that is easily added to your WordPress hosting package. Your email will be hosted on our fast, reliable cloud infrastructure.
Managed Plugin Updates
Sit back, relax and stay up-to-date with Managed Plugin Updates. We know that managing plugin updates is time consuming and distracts from other valuable work that can grow your business. Offload the tedious task of plugin updates!
Uptime Monitoring
Some businesses require that extra level of care and demand high availability. Regardless of what time zone you're in, whatever day of the week or year, we've got you covered with 24/7 High Availability Uptime Monitoring.
WordPress SEO Business Pack
We think this is a real game changer for WPhost clients! Our WordPress SEO Business Pack keeps track of your website's keyword ranking changes, finds out who your competitors are and how you stack up against them.
WordPress Security Insights
Knowing that a website has a known vulnerability is hard to ignore with Security Insights. Stop being in the dark when it comes to your security.
Step 4: Additional required information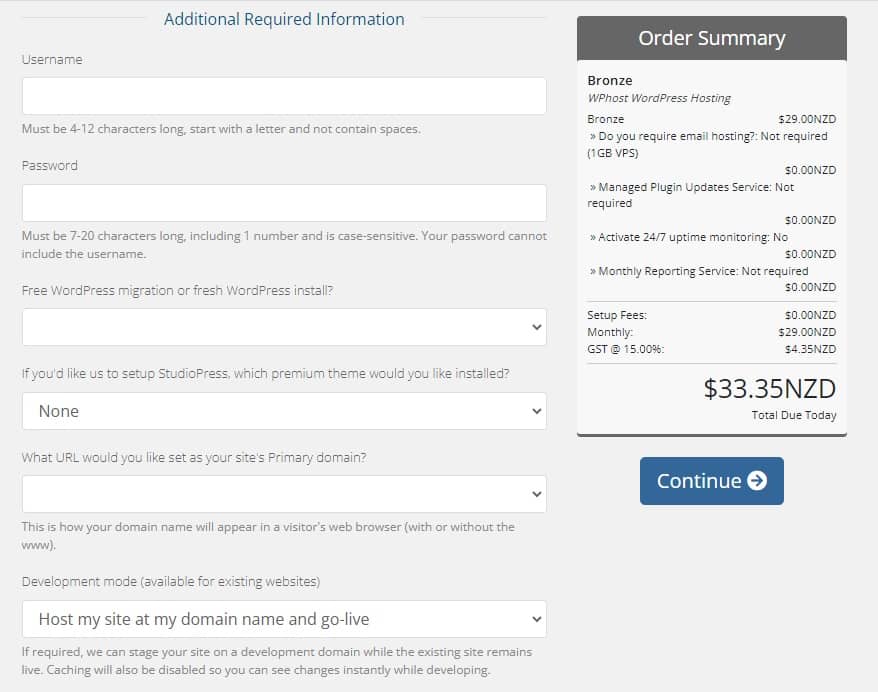 Next, we require some additional information. We'll migrate your existing WordPress site for free or we'll install, configure and optimise a fresh install of WordPress with server-side caching at your domain name for you – the choice is yours.
If you're just starting out, WPhost gets you access to the ultimate WordPress toolkit for web design professionals and business owners with a free StudioPress theme of your choice and the Genesis framework, or Divi by Elegant Themes.
Divi is Elegant Theme's flagship theme and visual page builder, and the most widely-used premium WordPress theme in the world. While thousands of developers choose the Genesis Framework because it provides exactly what they need to build a secure, SEO-friendly, powerful WordPress site without the bloat. The Genesis Framework and StudioPress Themes work seamlessly with the new WordPress editor.
You'll also need to decide on the preferred version of your domain name that you'd like us to set as your primary domain. This is how your domain name will appear in a visitor's web browser. You can opt for either the www version of your domain (www.domainname.co.nz) or the non-www version (domainname.co.nz).
Finally, if we're migrating your existing website, you can chose to firstly stage the migrated site on a development URL before going live. This will be hosted on a WPhost subdomain and allows you to preview your site and make changes while your existing site remains live. Alternatively, you can chose to immediately go-live at your domain name.
Step 5: Available addons
Lastly, please review any available addons. If you require an Urgent WordPress Migration we can expedite the transfer. Urgent migrations are completed overnight (Monday – Friday).
At WPhost, free SSL certificates come standard with every WordPress hosting plan. Our super speedy WordPress platform and free SSL certificates work together to give your site a boost in both SEO and security.
Final Step: Checkout
Please enter your personal details and billing information to checkout. Once you complete your order, keep a look out for your order confirmation email – this contains a link to our secure migration request form so we can get started on your move immediately.
You will receive an email from us as soon as your account has been setup. We look forward to working with you online!