WordPress 5.0, featuring the new Gutenberg editor, has officially been released! It introduces a brand new publishing experience for the WordPress platform, plus a bunch of other great benefits for your WordPress website.
This isn't like any other WordPress update. The new Gutenberg editor introduces a brand new WordPress publishing experience that's pretty different to what you're probably used to. It's exciting, but there's also a lot to think about as you get ready to update your site. If you're a WPhost client you can read about how we're handling the Gutenberg update, and to help make it easier to understand, we've put together this handy guide to help you get started with Gutenberg! Here's what we'll cover:
What is the Gutenberg Editor?
How we're handling the Gutenberg update
How to disable Gutenberg and keep the Classic Editor in WordPress
Divi and WordPress 5.0
What is the Gutenberg Editor?
Gutenberg redefines the entire WordPress publishing experience, all starting with the post editor and the introduction of "blocks" in WordPress 5.0.
The entire editing experience has been rebuilt for media rich pages and posts. Blocks are a great new tool for building engaging content. With blocks, you can insert, rearrange, and style multimedia content with very little technical knowledge. Instead of using custom code, you can add a block and focus on your content.

A single block is nice – reliable, clear, distinct. Discover the flexibility to use media and content, side by side, driven by your vision.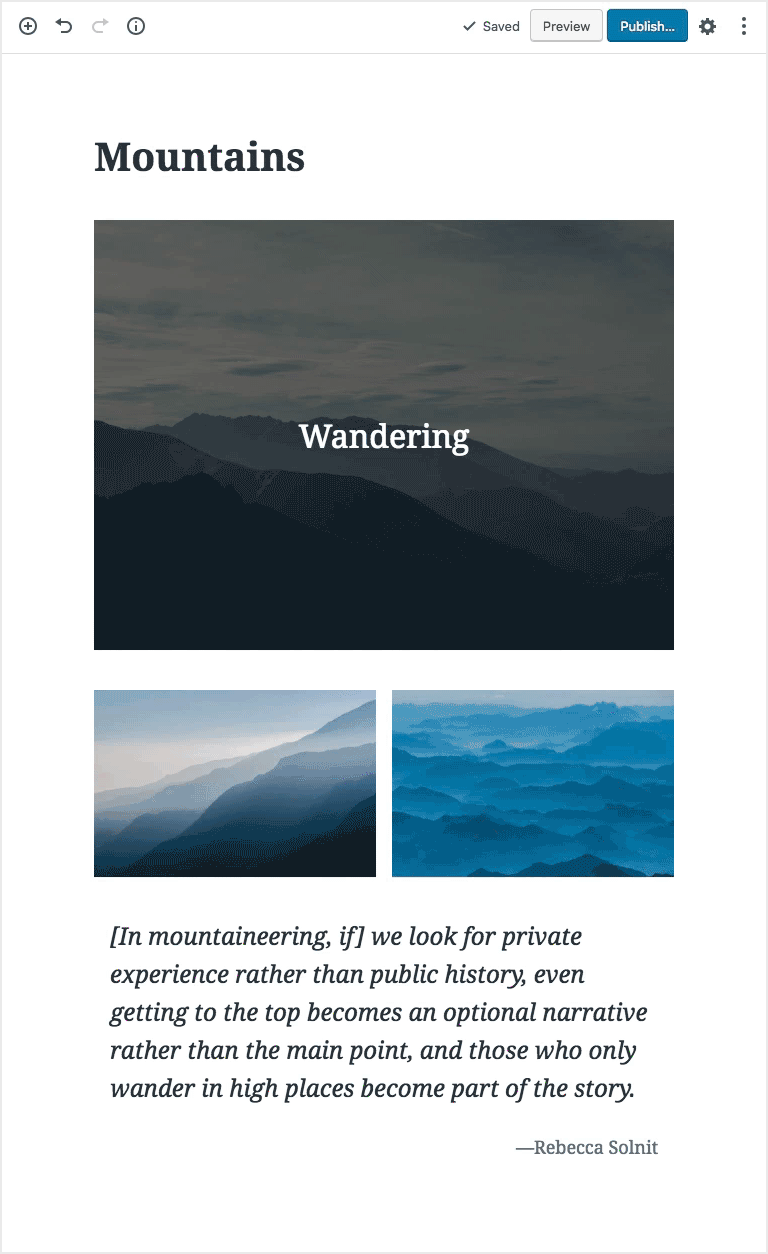 How we're handling the Gutenberg update
For most major WordPress updates, WPhost starts automatically updating all sites to the latest WordPress version within 2 weeks of a release. In this case, based on the time of year and how huge of an update this is, we will be pushing that timeframe back to late January. This is a pretty major upgrade to the WordPress editor and we're committed to ensuring the upgrade is as smooth as possible for all WPhost clients so we will be automatically upgrading sites starting Monday, January 28th.
Of course if you'd like to get a head start, you still have the option to update your WordPress website to 5.0 anytime by opening a support ticket within your Client Area. All newly created sites after the official release will automatically be created using WordPress 5.0.
How to disable Gutenberg and keep the Classic Editor in WordPress
The new editor is enabled by default in WordPress 5.0.
If you're not quite ready for Gutenberg or if you're not sure how compatible your current themes and plugins are, we've got you covered. Install the Classic Editor plugin to keep using your current editor until you're ready to make the switch.

Divi and WordPress 5.0
Divi is Elegant Theme's flagship theme and visual page builder, and the most widely-used premium WordPress theme in the world. Best of all, Divi comes free with every WPhost WordPress Hosting plan!
Elegant Themes has announced that the latest version of Divi and the Divi Builder are compatible with WordPress 5.0. However, it's important that you update Divi to version 3.18+ before updating WordPress to version 5.0. This version addresses many compatibility issues with the new Gutenberg post editor and will allow you to toggle the Divi Builder and hop into the Visual Builder. This update also addresses issues with the new meta box system, which is used to display Divi page settings and post format options. In addition, post format support has been extended to account for new Gutenberg content types (such as video and audio blocks).